What Does Crop Insurance Cover in Kentucky?
February 7, 2021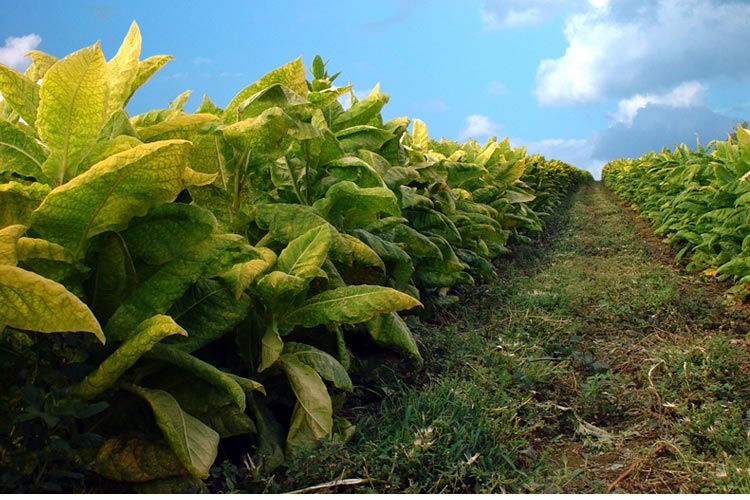 Any business needs to manage its risks, and for Kentucky farmers, crop insurance is the best risk management tool available. Whether your crops are damaged by natural disasters or you face financial loss because of agricultural prices, Kentucky farm insurance protects you from these threats.
When purchasing crop insurance, a Kentucky independent insurance agent can help you understand the options available to you and which policies you'll benefit most from. To start, let's learn more about crop insurance for Kentucky residents.
Total US farm income from crops between 2010 and 2020
(in billion US dollars)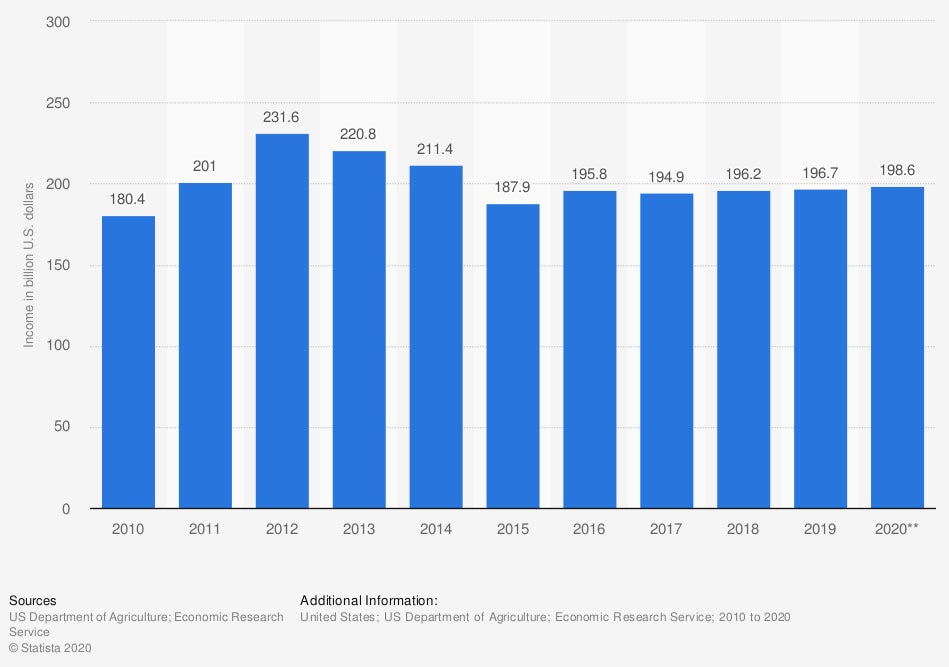 In 2020, cash receipts from farming came to around $198 billion dollars.
What Does Crop Insurance Cover in Kentucky?
Crop insurance is designed to reimburse for crop damage resulting from natural causes like drought, excessive moisture, freezing, extreme heat, and even disease and insect damage. It will also help pay for any financial losses due to declining prices in agricultural products.
What Isn't Covered by Kentucky by Crop Insurance?
Under a crop insurance policy, there are varying types of coverages depending on the individual nature of the crop. Crop insurance does not cover every crop. The top-produced crops in Kentucky include corn, soybeans, hay, wheat, and tobacco.
Each of these will have a different type of coverage, so before purchasing crop insurance, you'll want to make sure your crops are covered and what the coverage includes. Of course, if you're growing three crops and two are covered under crop insurance, but a drought wipes out your entire set of crops, you'll only be reimbursed for the covered crops.
In addition, crop insurance does not cover any loss of already harvested grains that are being stored.
Why you should consider crop insurance in Kentucky
What Is Multi-Peril Crop Insurance in Kentucky?
There are two major types of crop insurance, multi-peril crop insurance and crop-hail insurance. Multi-peril crop insurance, referred to as MPCI, is federally supported and regulated. It's sold by private crop insurance companies that have been approved through the federal program. MPCI covers the perils we've spoken about thus far as a result of destructive weather and price drops in the agricultural industry.
According to insurance expert Paul Martin, "Droughts don't skip counties. When crop disasters happen they affect everyone, which is why crop insurance is similar to flood insurance coverage in that it's federally available, because the government recognizes the importance of the insurance coverage."
MPCI covers more than 120 different crops. Farmers are required to renew policies each growing season by specific deadlines that are set by the federal government. It must also be purchased before a crop is planted.
What Is Rain and Hail Crop Insurance in Kentucky?
Rain and hail crop insurance, also referred to as crop-hail insurance is the second major type of crop insurance option for Kentucky farmers. Crop-hail insurance differs from general crop insurance in that it is not federally regulated, nor does it have to be purchased by a specific date. It can be purchased any time in the growing season. However, crop-hail insurance tends to offer more limited coverage than crop insurance. It covers:
Fire
Lightning
Theft
Wind
Vandalism
Malicious mischief
Another major difference is that crop-hail insurance is purchased acre-by-acre and only covers damage directly related to hail. This is because hail can destroy a portion of crops in one area of a farm while leaving other crops undamaged. You can choose to purchase one or both types of crop insurance, but most farmers purchase crop-hail insurance as a supplement to an MPCI policy. Seeing as hail is a common weather event in Kentucky, crop-hail insurance is worth speaking with your independent agent about.
How Does Revenue Crop Insurance Work in Kentucky?
Another option for farmers to protect their crops is through revenue crop insurance. This type of insurance is beneficial during years when you have a low yield or the price of crops is low. When purchased, the insurance company will compare the current year's crop yield and revenue to the previous year and provide payment to meet the policy's guaranteed revenue amount. Revenue crop insurance does not take into consideration the cause of price swings in crop prices, which works for the benefit of the farmer.
How Can a Kentucky Independent Agent Help?
Farming is a multibillion-dollar industry for the state of Kentucky, so protecting your farm against different hazards is crucial. A Kentucky independent insurance agent understands the risks farmers face and the different crop insurance options available. They'll shop multiple carriers to find providers that specialize in crop insurance and deliver you a variety of quotes to choose from.
They can also help you determine if you need to supplement your policy with crop-hail or revenue crop insurance so you can guarantee your farm and crops are fully protected.
https://www.iii.org/article/understanding-crop-insurance
https://cropinsuranceinamerica.org/kentucky/
https://www.rma.usda.gov/en/RMALocal/Kentucky
http://19oi1gv2f6b3j3s2u1d3p4hs-wpengine.netdna-ssl.com/wp-content/uploads/2020/03/Kentucky_2020.pdf
©

2023

, Consumer Agent Portal, LLC. All rights reserved.