What Does Winery Insurance Cover in Kentucky?
August 19, 2021
Like many other businesses, wineries have several exposures and potential liabilities that need protection. Wineries are vulnerable to numerous threats on a daily basis, which is why they require special coverage.
Fortunately a Kentucky independent insurance agent can help you find the right type of winery insurance for your unique business. They'll also get you set up with this coverage long before you ever need to use it. But first, here's a deep dive into this important coverage.
What Is Winery Insurance?
Basically a specific type of Kentucky business insurance, winery insurance is designed to protect wineries from their unique exposures. The basics of a business insurance policy will be included, with coverages specifically needed by wineries added on. A Kentucky independent insurance agent can help you find the right policy to meet your needs.
What Does Winery Insurance Cover in Kentucky?
Wineries need several types of coverage to operate safely. According to insurance expert Jeffery Green, wineries in Kentucky must start with at least these protections:
A Kentucky independent insurance agent can help your winery get equipped with the basic coverages it needs to be successful.
Winery Stats for the US
When hunting for coverage for your winery, it's helpful to know the status of the industry overall. Check out some recent stats for wineries in the US below.
Industry revenue of "wineries" in the US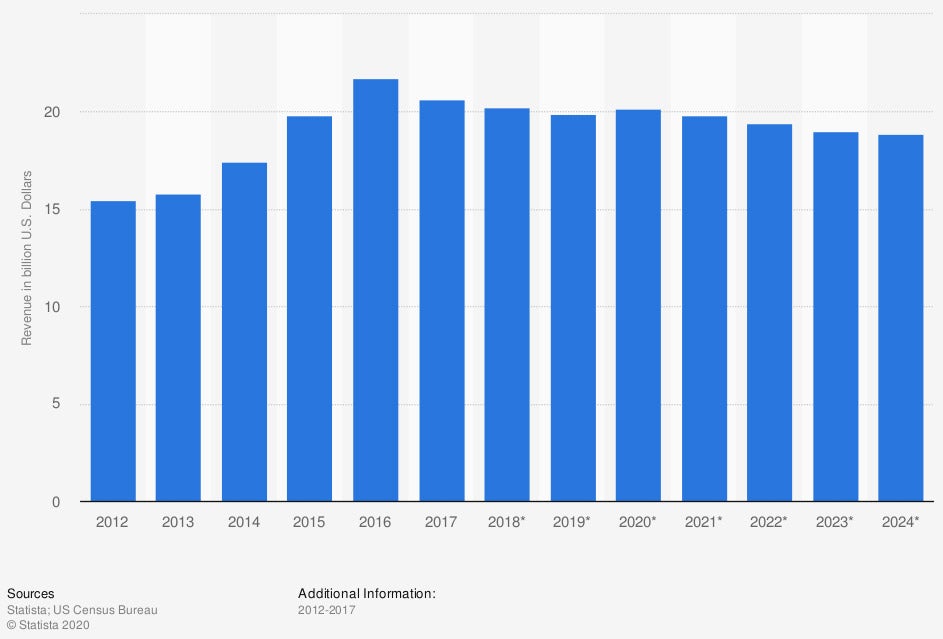 At the beginning of the observed period, industry revenue for wineries in the US was only $15.47 billion. At its peak, it reached $21.73 billion. In the coming years, wineries are projected to earn about $19 billion annually.
Since wineries are a billion-dollar industry, it's critical to get yours covered with the right protection. A Kentucky independent insurance agent can help.
Do Wineries Need Additional Coverages?
Green said that wineries often require special coverages not included in a basic business insurance package. It's important to look into coverage for the following exposures:
Chemical liability
Crop exposures
Wine contamination
Leakage
Tank or barrel damage
You might also need a Kentucky crop insurance policy to protect against threats like disease outbreaks and freezing, if your winery has its own crops.
What Doesn't Winery Insurance Cover?
Though winery insurance covers a lot of common perils, it doesn't cover everything. These disasters are often excluded from coverage:
Intentional acts
Nuclear or war damage
Pollution
Employee dishonesty
Flood damage
Earthquake damage
Your Kentucky independent insurance agent can further explain the exposures not covered by winery insurance and help you find extra coverage, if necessary.
How Much Does Winery Insurance Cost in Kentucky?
Many factors influence the cost of your winery insurance. Common aspects that determine your premiums are:
Your winery's location
Your winery's annual revenue
The risks and exposures of your winery
The number of employees you have
Commonly, small wineries pay $100 or less every month for winery insurance. Bigger wineries with more risks and exposures could pay much more than this.
Does My Location Impact My Rates?
When it comes to insurance premiums, your location almost always impacts these rates. If your winery is located in a bigger city with more threats like various crimes, you'll probably pay quite a bit more for coverage than if you were located in a smaller, calmer town.
Your area's risk of storm damage also impacts your premium rates. Cities with a higher risk of storms like hurricanes or tornadoes often pay up to 15% more for their coverage. A Kentucky independent insurance agent can help find winery insurance quotes for your area.
Here's How a Kentucky Independent Insurance Agent Can Help
Independent insurance agents are fully equipped to protect winery owners against commonly faced liabilities. Kentucky independent insurance agents shop multiple carriers to find providers who specialize in winery insurance.
They can deliver quotes from a number of different sources and help you walk through them all to find the best blend of coverage and cost.
https://www.statista.com/forecasts/310807/wineries-revenue-in-the-us
https://www.iii.org/article/background-on-crop-insurance
https://www.iii.org/article/small-business-insurance-basics
©

2022

, Consumer Agent Portal, LLC. All rights reserved.