What Does Farm and Ranch Insurance Cover in Kentucky?
February 10, 2021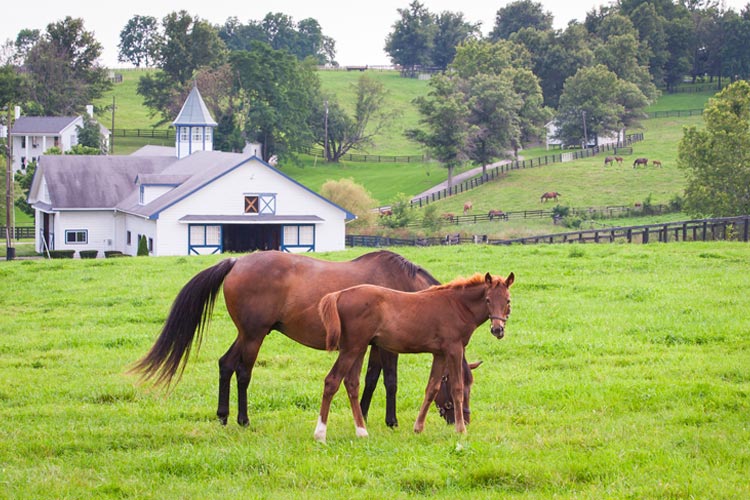 Kentucky has relied on raising crops and livestock since the 1770s, and farming remains a multi-billion dollar industry for the state each year. If you're a farmer in Kentucky you want to protect your farm from any unexpected risks and perils it may face. Fortunately, Kentucky farm and ranch insurance is a thorough insurance policy that offers coverage for your farm and your commodities.
When shopping for farm insurance, a Kentucky independent insurance agent can help you understand the different policy offerings and what your farm might need. Every farm is different and farm insurance can be catered to fit your property and what's on it.
What Does Farm and Ranch Insurance Cover in Kentucky?
Farm and ranch insurance is a special type of business owners policy that covers any damage that is done to any personal property that is directly related to your farm. Whether it's livestock, machinery, commodities, or an on-site injury, a good farm insurance policy is made up of multiple coverages that will step in if something occurs. Here's a further look at the most common aspects of farm and ranch insurance.
Liability coverage: If a third party is injured on your farm, liability coverage will help pay for any medical expenses, legal fees, property damage, and bodily injury-covered events. It's important to note that liability coverage does not cover employee injuries that are covered under worker's compensation.
Property coverage including equipment: Your farm and ranch insurance policy will help pay for any damage or repair to your farm's property, including machinery, buildings, fencing, tools, and more if it's damaged in a fire or natural disaster, vandalized, or stolen, among other covered events.
Livestock coverage: Your cows, chickens, horses, swine, goats, and other animals will be covered if they're killed or injured by covered events. There are different options depending on the type of animal, as some require different insurance from others.
Crop or farm products coverage: Your crops, seed, silage, animal feed, fertilizers, and pesticides are all covered under a farm and ranch insurance policy. Some products are only covered while being stored and will require additional coverage once planted in the ground. Crop insurance will protect your crops if they're destroyed because of a drought or freezing temperatures.
You will also have some optional coverages you can add to your farm and ranch insurance policy.
Worker's compensation: Kentucky does not require worker's compensation for farms, but it's worth considering if you have a number of employees that will be operating machinery and working on your farm daily. It protects you from being sued by an employee if they're hurt on the job, and also covers medical expenses and payroll for an injured employee.
Commercial auto insurance: If your farm or ranch has vehicles that are regularly used on the job, then a commercial auto plan can protect your vehicles and drivers from liability claims and accident damage, and costs.
What Is Not Covered by Farm and Ranch Insurance in Kentucky?
Even though Kentucky farm and ranch insurance is very thorough, there are still exclusions. Some of the most common exclusions include:
Insect damage or infestations
Maintenance-related losses
Owner neglect of property and equipment
Nuclear fallout or war damage
Earthquake damage
Flood damage
According to insurance expert Paul Martin, it's important to consider supplementing your farm and ranch insurance with a flood insurance policy and earthquake policy if you live in Kentucky. The state is prone to both types of natural disasters, and not having coverage exposes your farm.
Leading 10 US States Based on Number of Farms in 2019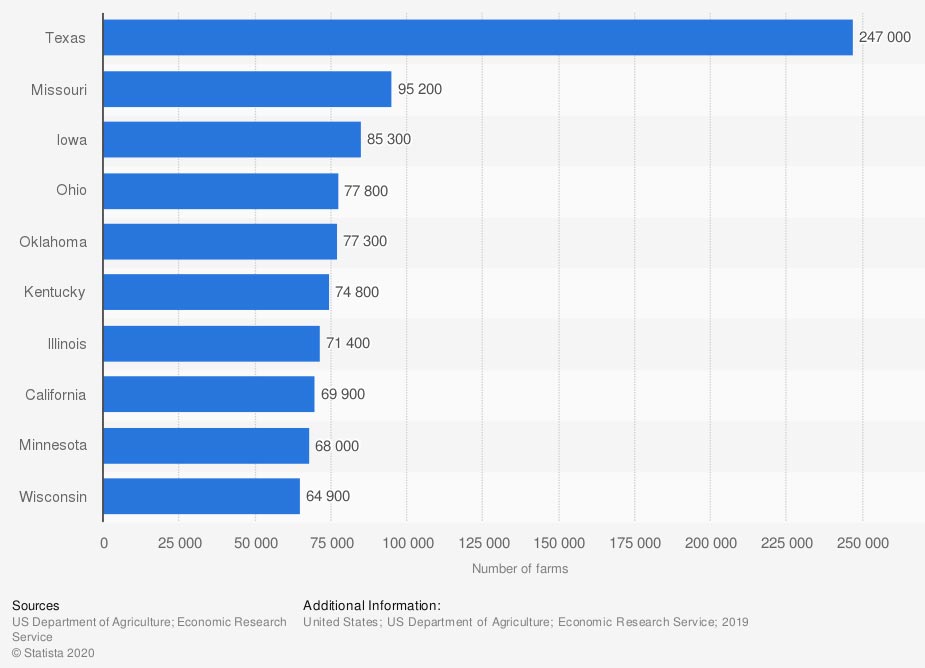 Kentucky is the sixth leading US state in terms of the total number of farms, with about 75,000 farms at the end of 2019.
What Is Kentucky Cattle Ranch Insurance?
Cattle insurance is a specialized type of business insurance for cattle ranchers. It protects your cattle from unforeseen events that could bring them harm or death. Whether your cattle are on your ranch or in transit, they're considered part of your property. Cattle ranch insurance helps cover the financial losses you would incur if you were to lose your cattle.
What Does Cattle Insurance Cover in Kentucky?
Just like farm and ranch insurance, cattle insurance covers a variety of aspects of your ranch, including property damage, liability, worker's compensation, and livestock. Cattle insurance will cover similar things to general farm and ranch insurance, including:
Equipment and machinery
Buildings and fencing
Livestock
Liability
Crop insurance
Commercial auto insurance
Worker's compensation
These policies will step in if your property experiences one of the following perils:
Accidents loading and unloading livestock
Damage to livestock by fire, smoke, or explosions
Natural disasters like tornadoes, fire, or sinkholes
Weather events that affect your livestock such as lightning, wind, and hail
Theft, vandalism, and other crimes
Collisions while in transit
The same list of exclusions pertains to cattle insurance as for general farm and ranch insurance. Together with your Kentucky independent insurance agent, you can work to assemble a cattle ranch insurance package that adequately covers all aspects of your unique business.
How Much Does Farm and Ranch Insurance Cost in Kentucky?
Providing an exact estimate for insurance cost is difficult because of the variety of factors that influence the cost. Your independent insurance agent is the best person to help you navigate the different cost options of your policy, but it's good to know what will impact your premiums. The most common factors that affect farm and ranch insurance costs in Kentucky include:
Annual profits
The size and exact location of your ranch
The amount and value of your livestock
The amount and value of your inventory
Any additional insured structures
Equipment and its specific uses
Keep in mind that Kentucky is threatened by several natural disasters like floods, droughts, cold waves, and earthquakes, and this is taken into consideration by insurers and may impact your premium costs.
Here's How a Kentucky Independent Insurance Agent Can Help
Kentucky's farming industry is dominated by small family farms. When protecting your family business from risks like fire, natural disasters, and other perils, a Kentucky independent insurance agent is the best person to have on your side. They'll search through multiple carriers and collect a variety of quotes and find providers that specialize in whatever type of farming you do. They'll walk you through the quotes and you'll work together to build a policy you're comfortable with that keeps your farm thriving.
https://www.kyfb.com/insurance/insurance-products/farm/
https://www.iii.org/publications/insuring-your-business-small-business-owners-guide-to-insurance/insurance-for-specific-businesses/farms-and-ranches
https://www.kyfoodandfarm.com/ky-ag-facts#:~:text=Agriculture%20sustained%20the%20first%20settlers,cattle%20to%20tobacco%20and%20corn.
©

2022

, Consumer Agent Portal, LLC. All rights reserved.