Do You Need Flood Insurance in Kentucky?
March 3, 2021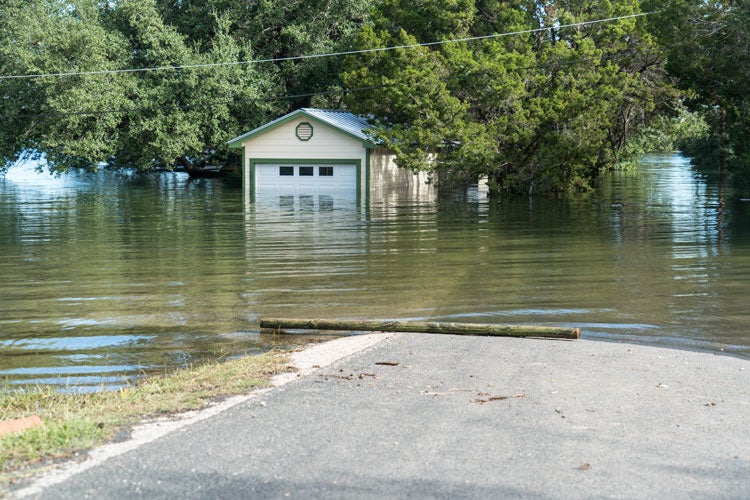 Insurance Content Navigation
Flooding is the most costly disaster that threatens Kentucky each year. Flooding is unpredictable and varies in severity, which is why it's best for homeowners to be prepared for the worst with the proper insurance.
Unfortunately, flood insurance is not included in a general Kentucky homeowners policy, it must be purchased separately. For this reason, working with a Kentucky independent insurance agent can help you understand your home's risk for flooding and guide you in finding the proper flood insurance.
What Does Flood Insurance in Kentucky Cover?
In a nutshell, flood insurance will cover your property, structures, and most of your belongings if they're damaged due to natural waters. These include weather events like rain, waves, broken dams, raised river beds, and snowmelt. Structurally, you'll most likely receive coverage for damage to the following:
Electrical and plumbing
Foundation
HVAC equipment
Appliances
Permanently installed carpet over an unfinished floor
Debris removal
With regard to your personal contents, you can expect most flood insurance to cover things like:
Furniture
Electronics
Clothing
Washers and dryers
Dishwashers
$2,500 of valuables such as art/jewelry
Insurance expert Paul Martin says it's important to read your coverage policy closely. "Personal items are reimbursed based on their value, not what you originally paid for them, which is important to keep in mind," says Martin.
What Doesn't Kentucky Flood Insurance Cover?
As comprehensive as it might be, flood insurance contains some exclusions. For one thing, it doesn't cover any water damage events that are not caused by natural waters. Things like burst pipes or a bathtub overflow that causes a ceiling leak and water damage to the floors below will not be covered by flood insurance.
Often there are also exclusions when it comes to what is covered in a basement or other areas below the lowest elevated floor. There are both structural and personal property restrictions for these areas. Washers and dryers, food freezers, and portable air conditioners are typically the only personal property items covered in the basement.
Many policies specify that water must cover at least two acres of normally dry land in order to qualify for reimbursement, which means that anything damaged by natural waters that don't meet this requirement will also not be covered.
Is Flood Insurance Required in Kentucky?
Typically, flood insurance is not required. However, because of the potential risks, some residents of Kentucky are required to purchase this insurance. Homeowners and business owners who live or own property located in high-risk flood areas of Kentucky are required to buy flood insurance if their mortgage is from a federally regulated lender.
A federally regulated lender is a lending institution that is registered with the US Securities and Exchange Commission. Your Kentucky independent insurance agent can help you determine if your property falls into this category or not.
For all other residents, flood insurance is not required but is highly recommended.
Why you should consider buying flood insurance in Kentucky:
20% of flood insurance claims are from outside high-risk zones
Kentucky has recorded 100 deaths related to flooding between 1996 and 2020
Flood deaths in Kentucky accounted for over 4% of the total flood deaths that occurred across the United States
66 of the 100 deaths occurred while the person was still inside their vehicle
What Are the Flood Zones in Kentucky?
Knowing your flood zones not only helps you better understand your home's risks, but can also help you prepare in the event that a flood does strike. Whether you live in Louisville or Bowling Green, cities and counties across the state are at risk of flooding at varying times. In Kentucky, the Division of Water cooperates and partners with FEMA to update and maintain the flood maps. These maps are called Flood Insurance Rate Maps, or FIRMs. On these maps, you'll find zones that indicate whether you're located in a high, moderate, or low-risk area for flooding. Keeping up with the flood zones can be difficult, as they're always changing, but you can find your flood zone by looking at the Kentucky Flood Hazard Portal. The highest areas of flood risk are shown as A or AE zones.
What Is Considered to Be a Flood in Kentucky?
Flooding does not always occur from heavy rainfall. Kentucky is home to a variety of flood activity, all of which qualifies as a "flood" to insurance companies. The most common types of flooding the state is at risk for include:
Flash flooding: When a typically dry area experiences high water flows, causing a rapid rise in the water level of streams or creeks, resulting in water levels above the predetermined flood levels. If this occurs within six hours of the initial weather event, then it's considered a flash flood.
River flooding: When the water levels of a river rise above the banks and the natural drainage system. This causes the river to overflow out of the banks and flood the surrounding areas.
Burn scars/debris flows: When heavy rainfall hits an area that has recently been burned by a wildfire, it can lead to mud and debris flow carrying branches, soil, and other debris.
Ice and debris jams: When there is a build-up of water behind ice on a body of water.
Snowmelt: If warm weather causes snow to melt quickly, the water runoff can end up in nearby streams and rivers and result in a rapid rise in water levels and flooding.
Debris jams: When a river or stream is backed up by debris or ice, causing the river to flood.
Dry wash: When heavy rain falls on otherwise dry land, it causes water to run toward low-lying areas like canyons or stream beds, which can then flood.
Rivers, dams, and creeks have predetermined flood levels, and any event that causes water to surpass these predetermined levels is considered a flood in Kentucky.
How Much Does Kentucky Flood Insurance Cost?
The cost of flood insurance policies depends on a couple of factors like location, flooding history, and the elevation of your property. Basically, the further away from flood zones you are and the less history of flooding you have, the less you'll pay.
In Kentucky, the average cost of flood insurance is $1,095 annually.
Martin reminds homeowners that they don't want to wait to purchase their insurance. "Most policies require you to own your policy for 30 days before you are able to file a claim, so you don't want to wait until disaster strikes to purchase."
How a Kentucky Independent Insurance Agent Can Help You
A Kentucky independent insurance agent can review your needs and help you evaluate how much flood insurance you need. They will also compare policies and quotes from multiple insurance companies to make sure you're going with the most reliable carrier available. Your agent can also help you determine your flood zone and answer any questions you might have about your coverage before and even during a claim.
https://eec.ky.gov/Environmental-Protection/Water/FloodDrought/Documents/KentuckyFloodFactSheet.pdf
statista.com
https://www.weather.gov/safety/flood-states-ky
©

2023

, Consumer Agent Portal, LLC. All rights reserved.