Who Pays for Busted Sewage Lines in Kentucky?
May 16, 2022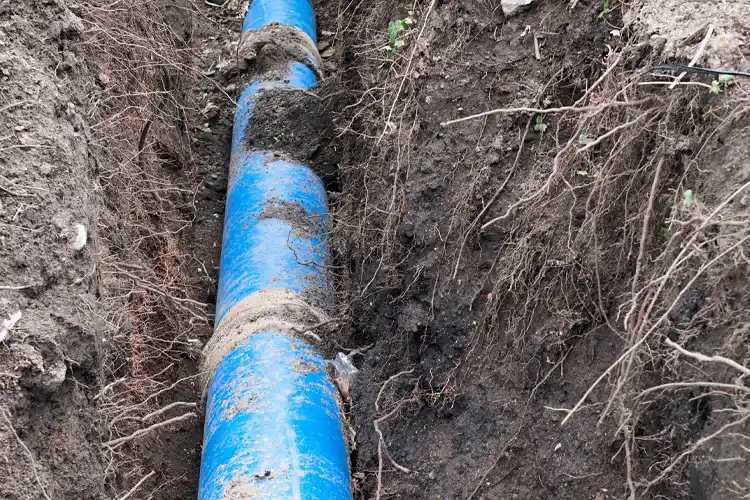 Busted sewer lines can damage everything from the floors to the electrical lines in your Kentucky home. Damage can cost thousands of dollars, and if you don't understand how home insurance works, you could be left paying the costs out of pocket.
So if your sewer line busts and causes significant damage, who's responsible? Ultimately, you're responsible, but a Kentucky independent insurance agent can help you get set up with insurance that can help.
Who's Responsible If My Home's Sewage Line Busts?
Once you become the owner of a home, you're fully responsible for the maintenance of the sewer lines in the home. You're also responsible for any repairs that the sewer lines may require. Home sewer lines eventually connect with city sewer lines, but as the homeowner, you're responsible for the sewer lateral.
What is the sewer lateral? This is the pipeline between your home and the city's main sewer line.
When you purchase your home, it's worth learning where your sewer line ends and where the city sanitary main sewer line begins. This can give you an idea of how much piping you're responsible for.
Is It Ever the City/County/State's Responsibility?
Most likely, no. It's rarely the responsibility of the city, county, or state to fix your sewer line if there's an issue. Since the responsibility lies solely on you as the homeowner, knowing the common signs of sewer line problems can help you catch a problem before it becomes catastrophic.
7 common signs of sewer line problems
Backups and blockages: The first sign of a backup or blockage is your toilet overflowing or standing water in your drains. Some backups and blockages can be easily cleared, but others are more complicated.
Sewer gas odor: If your sewer system is cracked then it will release an odor of gas in and around your home. Anytime you smell gas, there's likely to be a larger sewer problem going on. However, there are other things that can cause this, some of which are dangerous. Make sure to get it checked out ASAP.
Mold: When mold grows from sewer problems, you're likely to find it in the corners of your walls or ceilings.
Slow drains: If you notice that your sink, bathtub, or toilets are suddenly draining very slowly, it could be a sign of a blockage forming in your pipes. Unattended blockages lead to backups so it's best not to ignore a slow drain.
Lush patches of lawn: If you notice lush patches of green throughout your yard, it's likely that water is not being distributed properly. This happens when the water is not flowing through the pipes as it should.
Cracks, settlements, and sinkholes: Cracks, settlements, and sinkholes in the foundation of your home are a good sign of an untreated sewer problem.
Rodent and insect problems: If you experience an increase in rodents or insects in your home, it could be a result of a broken or cracked sewer line.
How Much Does Sewage Line Repair Typically Cost?
Unfortunately, sewer line repair and replacement can be very expensive. You'll probably need a professional to get the job done and your cost will depend on how serious the damage is.
Cost to repair a main sewer line
$50-$150 per foot, on average
$2,250 – $5,750 average total cost to repair
Cost to replace a main sewer line
$50 to $200 per foot, on average
$3,000 to $30,000 total cost to replace
Severe sewer problems typically lead to added costs such as temporary living fees and any damage that is caused to your home if the problem was not found early.
What Does Homeowners Insurance Cover in Kentucky?
Homeowners insurance is essential coverage to have because it provides protection against a variety of risks you face as a homeowner. Unfortunately, home insurance does not cover damage from busted sewer lines, but you have some options for add-on coverages, which we'll discuss shortly.
Standard Kentucky homeowners insurance is made up of four coverages:
Liability protection
Additional living expenses
Dwelling coverage
Contents coverage
Through these coverages, standard homeowners insurance will pay for damage from the following perils:
Fire, smoke, or lightning
Windstorms or hail
Explosions, volcanic eruptions
Riots or civil commotion
Damage caused by vehicles or aircraft
Theft, vandalism, or malicious mischief
Falling objects
Weight of ice, snow, or sleet
Accidental water damage from plumbing, sprinklers, or appliances
Damage from freezing
Damage from artificially generated electrical current
Bodily injury or property damage claims by third parties
If any of the above should occur, you'd receive coverage for items such as:
Your home's structure, including garages and detached structures
Built-in and brought-in appliances
Furniture, clothing, flooring, collectibles, and other personal items
Heating and air conditioning systems
Plumbing and piping
Tools and home maintenance equipment
If you want coverage for damage from busted sewer pipes, you'll need to add a water backup endorsement. You can also add a sewer line policy that will help pay for repairs to your sewer line. A Kentucky independent insurance agent can work with you to add these coverages.
Will My Insurance Rates Be Affected Even If I'm Not Responsible?
Since damage from busted pipes is not included in standard homeowners insurance, you wouldn't be filing a claim with your home insurance and therefore your rates wouldn't increase.
If you did have a water backup endorsement or sewer line policy that you filed a claim against, a single incident is unlikely to increase your rates. Insurance carriers do reserve the right to increase your rates or not renew your policy if they notice a trend of specific claims.
Are Sewer Line Problems Common in Kentucky?
Sewer lines may be hidden in a place where you don't often see them, but sewer problems are fairly common in US homes.
More than 850 sewer line breaks occur every day throughout North America.
A leak the size of a dime can waste 6,300 gallons of water in one month.
A 1/8 inch crack in a pipe can leak up to 250 gallons of water per day
Addressing easy-to-fix leaks can save you 10% on your water bill
No matter where you live in the US, your home is at risk of sewer line issues. Knowing what to keep an eye out for and properly maintaining your sewer can help prevent costlier incidents.
How Can a Kentucky Independent Insurance Agent Help?
Understanding how home insurance plays into certain incidents can help you be prepared for any scenarios that come your way. A Kentucky independent insurance agent can answer your questions about who's responsible when it comes to busted sewer lines.
Agents are also a great source for making sure you're fully protected. They can find you a new home insurance policy, review an existing policy, and make any updates to get you better coverage. Local agents are located across the state and ready to help you find the perfect insurance for your needs.